May 3rd, 2019 | Posted in
Investing
If you invest for the long term, it barely matters WHEN you invest
Are you concerned about investing with the market near all-time highs? Consider this: legendary investor Peter Lynch once ran a test to determine if stock market timing was an effective strategy. He started with two hypothetical investors. From 1965-1995, one invested $1,000 each year at the "best" time: when the market was at its lowest. The other invested $1,000 at the "worst" time: the market's high point that year. The results:
Even Investing at the market high each year, Investor #2 only trailed by 1.1% per year!
Annualized compounded returns from 1965-19951
#1 investing at "best" possible time: 11.7%
#2 investing at "worst" possible time: 10.6%
Participating Is More Important Than Timing
It's a waste of effort trying to predict a bear market's end or a bull market's beginning. If you're investing for the long term, the most important thing is to invest and stay invested.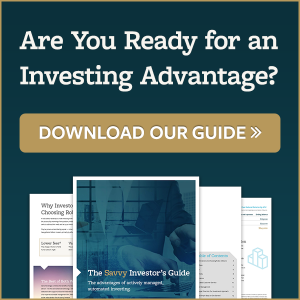 Zacks Advantage Can Help
Simple & easy: Opening an account and creating your portfolio only takes a few minutes Low cost: Your portfolio is actively managed for up to 75% less than typical advisors charge2 Performance driven: Management regularly evaluates holdings to seek enhanced performance Time tested: We use investing approaches refined over 30 years of asset management
Guessing is Not a Sound Strategy!
No one knows if the current market is at a peak. If you're investing for the long term and waiting for a market pullback, reconsider that strategy. Rather than guess, consider investing now and keeping a long term perspective. Research suggests that, historically, it's been the smart way to go.
Learn more about how Zacks Advantage combines the simplicity and low fees of a robo advisor with performance-focused active management. Download our Overview Guide today!
---
1 Source: Investopedia
2 According to a 2015 Cerulli Gobal Analytics study which reported an average 2014 annual explicit client fee for sub-advisory separate accounts of 1.64%.
---
Past performance is no guarantee of future results. Inherent in any investment is the potential for loss
Zacks Advantage is a service offered by Zacks Investment Management, a wholly-owned subsidiary of Zacks Investment Research. Zacks Investment Management is an independent Registered Investment Advisory firm and acts as an investment manager for individuals and institutions. All material in presented on this page is for informational purposes only and no recommendation or advice is being given as to whether any investment or strategy is suitable for a particular investor. Nothing herein constitutes investment, legal, accounting or tax advice. The information contained herein has been obtained from sources believed to be reliable but we do not guarantee accuracy or completeness. Zacks Investment Management, Inc. is not engaged in rendering legal, tax, accounting or other professional services. Publication and distribution of this article is not intended to create, and the information contained herein does not constitute, an attorney- client relationship. Do not act or rely upon the information and advice given in this publication without seeking the services of competent and professional legal, tax, or accounting counsel.